About the Organs
The historic E. M. Skinner pipe organ in Mount Carmel Church was built in 1928 by the prestigious E. M. Skinner Organ Company and was one of the last installations to be personally supervised by Skinner himself. Particularly noted for its large scale pipes and extensive tonal range, the 54 rank three manual organ has been restored to its original magnificence by the firm of Fabry Pipe Organs, Inc. The restoration was significant in that the instrument was not altered, but rather returned to its original tonal specifications, and as such is one of the very few unaltered Skinner instruments in existence.
In November of 1987, as the result of a bequest from Helen Kellogg, Our Lady of Mount Carmel Church acquired a mechanical action pipe organ built especially for them by one of the world's premier organ builders, Visser-Rowland Associates of Houston, Texas. From its splendid design and hand carved casework to its exquisite tonal specifications, it reflects the genius of master craftsman Pieter Visser. The individual stops, under low wind pressure, allow for a wide range of expression. The sweet flutes and singing principal are crowned by a brilliant copper trumpet.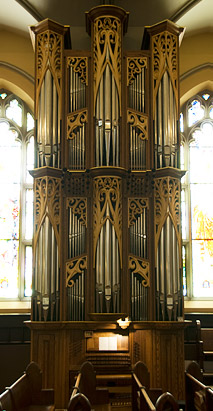 Organ Specifications
E.M. Skinner Grand Organ
Great Division
Double Diapason 16′
First Diapason 8′
Second Diapason 8′
Harmonic Flute 8′
Octave 4′
Flute 4′
Twelfth 2 2/3′
Fifteenth 2′
Harmonics III
Tromba 8′
Clarion 4′
Great-Choir Chimes
Swell Division
Diapason 8′
Rohrflute 8′
Flauto Dolce 8′
Flute Celeste 8′
Salicional 8′
Voix Celeste 8′
Octave 4′
Flute (triangular) 4′
Flautino 2′
Mixture V
Waldhorn 16′
Trumpet 8′
Clarion 4′
Oboe d'Amore 8′
Celesta
Zimbelstern
Tremolo
Choir Division
Gamba 16′
Concert Flute 8′
Gamba 8′
Gamba Celeste 8′
Dulciana 8′
Flute 4′
Gambette 4′
Nazard 2 2/3′
Clarinet 8′
Orchestral Oboe 8′
French Horn 8′
Tuba Mirabalis 8′
Celesta
Harp
Tremolo
Pedal Division
Open Diapason 16′
Diapason (Great) 16′
Contra Bass 16′
Bourdon 16′
Gamba (Choir) 16′
Octave 8′
Gedeckt 8′
Cello 8′
Super Octave 4′
Trombone 16′
Tromba 8′
Untersatz 32′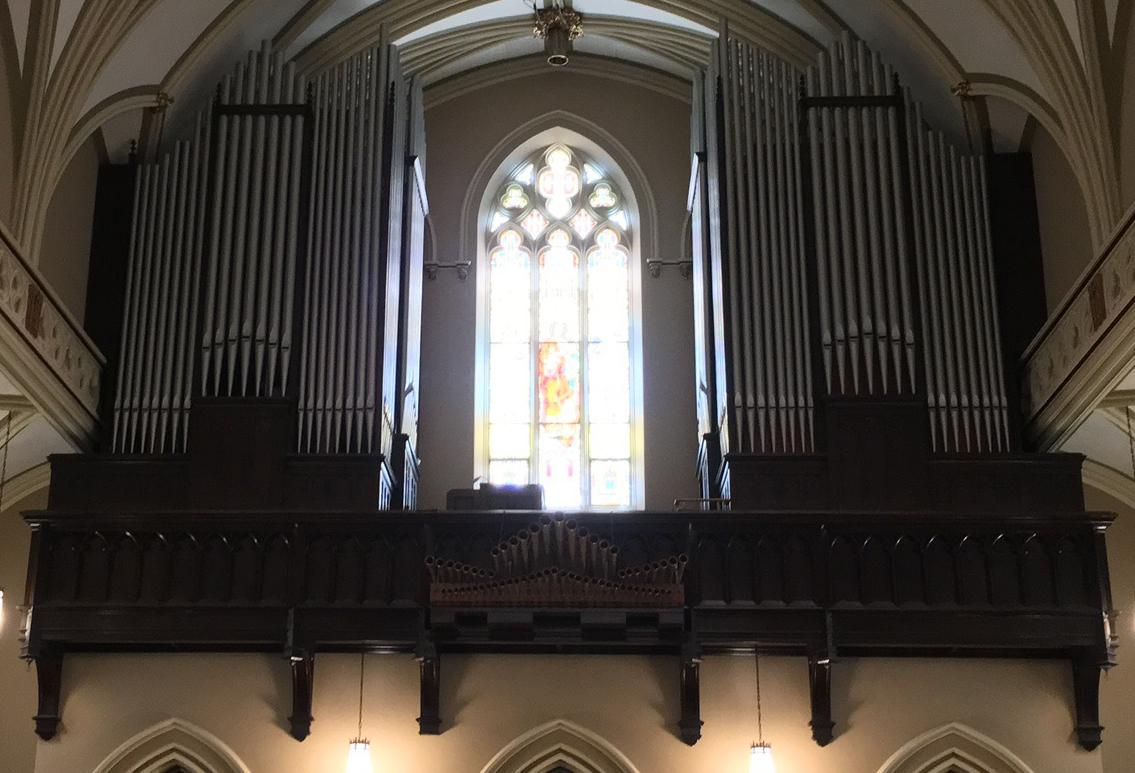 Visser-Rowland Choir Organ
Manual II Hauptwerk
Prinzipal 8′
Rohrflute 8′
Oktav 4′
Nachtorn 4′
Quinte 2 2/3′
Waldflote 2′
Terts 1 3/5′
Mixtur IVrk 1 1/3′
Trompette 8′
Zimbelstern
Manual III
Brustwerke Gemshorn 8′
Gemshorn Celeste 8′
Prinzipal 4′
Blockflote 4′
Oktav 2′
Larigot 1 1/3′
Scharf IIIrk 1′
Rohrschalmey 8′
Tremulant
Pedal
Subbass 16′
Prinzipal 8′
Choralbass 4′
Fagott 16′
How Organs Work
There are four basic families of organ tone by which all pipes are designed: Diapasons, or Principals; Flutes; Strings; and Reeds. The Diapason is the unique foundation tone of the organ. The entire ensemble of the organ is built of pipes of this family. This sound cannot be duplicated by other instruments. It is a smooth tone-neither a flute nor a string-and gives the organ its characteristic sound. In this large family are the Montre, Octave, Doublette, Contre Basse, Plein Jeu, Scharff, and Sesquialtera.
Flute pipes sound a very pure, clear tone; it is the oldest of organ tones dating back to the "Pipes of Pan." While the smallest Flute pipe is about 3/8″ in length, a Flute of greater proportion is the 32′ Open Bass-wooden pipes speaking from the South Chamber. Flute stops are made of wood or metal, and come in many varieties, from the rich and robust Flauto Mirabilis to the ethereal Flute Celeste.
Organ string tone may not be compared to that of the violin or cello in the orchestra as no percussive bowing can be effected from the String pipes. Strings have a timbre in complete contrast to the flutes, and like orchestral strings have a bright sound emphasizing the upper tones or partials. Celeste ranks are companion ranks of pipes to the strings which are tuned to produce a gentle undulating effect. A famous feature of theIt is impossible to imagine the miles and miles of copper wire used in this instrument when contact must be made from the console to each of the 8,035 pipes in the chambers. And what is even more amazing is the instantaneous response of the pipes to the player's wishes.
Special Features of the Great Organ
This organ stands apart in several special ways. The artistic merit of this instrument and its acoustical setting have been documented thoroughly for several generations, but the following facts may be less well-known:
The physical layout is nearly ideal with most tonal resources at one level and the bulk of the instrument divided into only two "chamber" areas
The components of the organ are laid out with plenty of space for easy maintenance access
Blower rooms are located adjacent to chamber areas providing the ideal situation for air temperature control
The console is simple and straightforward
The wind and expression systems are well designed
The stop list is simple and basically straight
The tonal design is so thoroughly worked out that it is hard to imagine the need for any changes or additions
Other E.M. Skinner Organs
CALIFORNIA, Los Angeles, First Congregational Church: Chancel organ (1932)
CALIFORNIA, Los Angeles, University of California: Royce Hall (1930)
CALIFORNIA, San Francisco, Temple Emanu-El Sanctuary (main organ) (1925)
CALIFORNIA, San Francisco, St Patricks Church (1934)
FLORIDA, Key West, First United Methodist "Old Stone" Church (c.1963)
FLORIDA, Jacksonville, Riverside Baptist Church (1927)
GEORGIA, Albany, Covenant Presbyterian Church
MAINE, Auburn, High Street Congregational Church (1926)
MAINE, Lewiston, United Baptist Church (1922)
NEW JERSEY, High Bridge, High Bridge Reformed Church (1930)
NEW YORK, Aurora, Smith Hall, Wells College (1906)
NEW YORK, Endicott, St Ambrose RC Church (1922)
NEW YORK, New Haven, Congregational Church (1926)
NEW YORK, NEW YORK, Cathedral of St John the Divine (1910)
PENNSYLVANIA, Philadelphia, Girard College Chapel (1932)
TEXAS, Dallas, First Presbyterian Church (1928)