Upcoming Events
Want to get involved? See the Groups page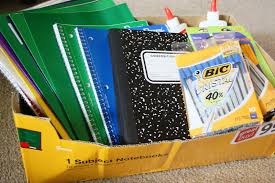 School Supply Drive is on!
We have also begun our annual backpack/school supply collection for Catholic Charities!  Please bring what you can donate to church on any Sunday or to the PMC during the week. Looking for ideas? Notebooks, pencils, loose leaf paper, colored pencils, erasers and even those fun binder all work! Have specific questions? Contact Deacon Johnson. Fall Fest 2018 Update!
We are excited for Fall Fest 2018! You can find out more about our annual fund raiser that benefits our buildings and their very critical care on the
Fall Fest page.
Ticket sales are open now via GiveCentral. All the information and links are noted on the Fall Fest page on this website, located under 'Events & Groups'. Tickets are $40 per person, same as last year. But remember, ticket prices go up September 16th. Any questions? Contact the Communio committee.
Regular Mass Schedule
doors open one-half hour before services
Weekday Eucharist
Monday – Friday
7:00am

8:15am

Saturday
8:15am
weekday masses are celebrated in Eden Chapel located on the west side of the church building
Weekend Eucharist
Saturday
4:30pm
Sunday
8:00am

9:30am

11:00am

4:30pm

Archdiocesan Gay and Lesbian Outreach
Sunday

7:00pm
Sacrament of Penance
Saturday
3:30 – 4:15pm
or appointment by calling (773) 525-0453
New to the Parish or not yet registered?
We invite you to register in the parish by stopping by the Parish Ministry Center (708 W Belmont, building west of the church) during weekday office hours (M-Thur 9am-9pm, Fri 9am-5pm) or visit the Parish Registration page.
Sacrament of Baptism
Baptisms are generally celebrated after the 11am Mass on Sunday. A parent baptism preparation session is required prior to the Baptism and takes place the last Monday of each month. Please call the parish office at (773) 525-0453 to sign up for the preparation.
Sacrament of Matrimony
Please call the parish office at least one year in advance to make arrangements at (773) 525-0453.
Mission Statement
Our Lady of Mount Carmel Parish is a diverse Catholic community of faith in East Lakeview. In union with the local and universal Church, we seek to glorify God by responding to the Gospel and promoting the human person through the celebration of the Eucharist, religious education and formation, and service programs. We care for and empower people to grow as individuals and as a community in the life and love of Jesus Christ.
Pastor Emeritus
Rev. Thomas I. Healy
Resident & Assistant
Rev. Jackson Colon
Deacon
Edmund Gronkiewicz
Organist
Kelly Dobbs-Mickus