All stained glass windows in the Church, designed by the Chicago firm of John J. Kinsella, were composed to enhance the prayer life of the people. However, they are also artistic compositions in and of themselves.
The four archangels (Uriel, Gabriel, Michael, and Raphael) set high in the apse of the church are particularly noteworthy because their style, composition, and color work together to evoke striking images depicting the apocryphal and biblical stories of the archangels in their ambassadorial roles.







Saint John the Evangelist








Our Lady of Mount Carmel Window
The central window in the apse of the church is the image of Our Lady of Mount Carmel. Its representation of the Patroness of the parish in an art deco style, similar to the images of the archangels, sets it apart.
St. Cecilia Window
The stained glass images of Saint Cecilia, the patron saint of Music, and two musicians from the choir of angels, illuminate the choir loft in the rear of the church.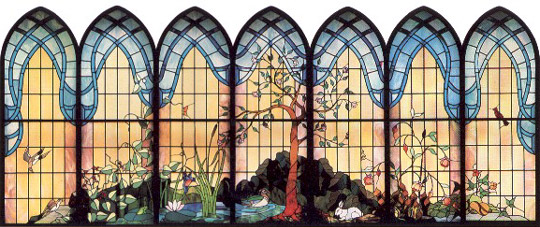 The Eden Chapel
The Eden Chapel is a calming and elegant space located to the left of the main altar. The stained glass windows were designed by Faith Posey and constructed by Drehold Brothers. The windows take as their theme the simplicity, beauty and wonder of creation. When seen together as a single visual image, the windows depict the innocence of nature at peace and tranquility, uninhibited by any restrictive force. Human life, however, is not present in the work itself. As the small community gathers for weekday morning Mass and seasonal devotions in the Eden Chapel, the cycle of the created order is complete: man and nature in harmony with God.